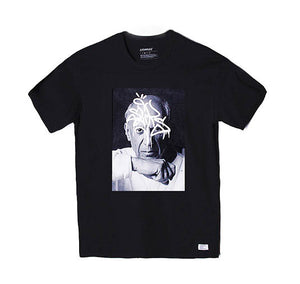 The Akomplice Pablo Picasso Tee
"Made In Love. 100% Cotton."
"Akomplice X Ease X Aesthetic. We continue to expand our horizons by working in more areas of the world, with more artists, and by taking a new approach to each project. For this collection, we teamed up with Central Sao Paulo born artist, Sliks. Sliks caught our eye because of his ability to combine fine art with a gritty Brazilian street style. He began tagging walls and running the streets in 1997. The style of the art is a result of Sliks's estrangement from the city, his aggressiveness, and the pressure and textures that he uses in his pieces. Organic and regular features in their abstract form contrast these elements. The project was a collaborative effort, co-created by Aesthetic, an innovative and well made surf/street lifestyle brand out of Florianopolis, an island off the Southern coast of Brazil. Aesthetic is known for their collaborative projects with artists, giving many of them a new canvas and platform to present their art. The three groups fit seamlessly. By the force of natural flow, the artist, the curator, and the outside perspective helped to create a tangible project for the world to enjoy."